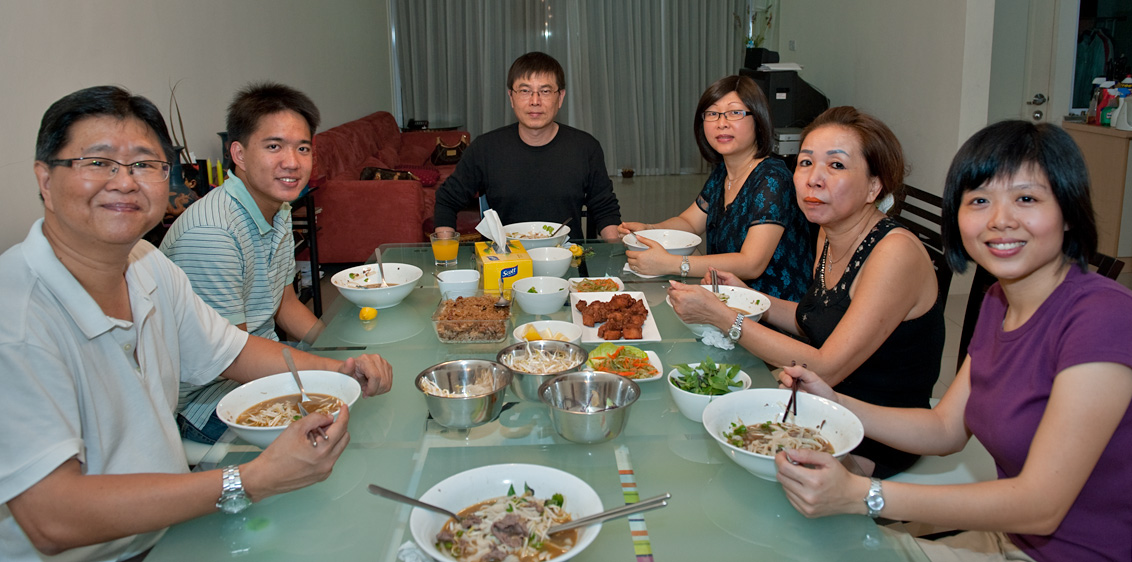 Clem's home cooked Vietnamese pho bo night.
L -R: Father Stephen Lim, Ian, Clem, Ursula, Cecilia, and Tze.
Simon took the photograph.

19 Oct 09
Ha Guthrie's Pho: Beef Soup with Cinnamon and Star Anise
Ingredients for soup:

4 pounds beef bones
1 package oxtails (about 8 pieces)
1 whole medium onion, unpeeled
1 3-inch piece of fresh ginger, unpeeled
1 cup cilantro stems, bottom 4 inches
1 4-inch piece of daikon, unpeeled and in one chunk
2-1/2 pounds chuck roast, in one piece
10 whole star anise
1 cinnamon stick, 5 inches
2 tablespoons fish sauce
1 tablespoon salt
1 tablespoon sugar
16 ounces rice noodles
1-1/2 pounds eye round roast, thinly sliced
Ingredients for garnish:

1/2 onion, thinly sliced
3 scallions, green part only, sliced
cilantro tops, finely chopped
1 small bunch basil
1 small bunch mint
1-1/2 cups bean sprouts
1 or 2 fresh chillies, thinly sliced
limes, cut in half, 1 per person
Method:
Place beef bones in a large stock pot with cold water to cover and soak for 2 or more hours. Drain, cover with fresh cold water and bring to a boil. Remove from heat and drain. Rinse off bones. Clean the pot and return the bones to the pot. Cover with 20 cups of cold water and bring to a boil. Add the oxtails and return to a boil. Skim the impurities from the surface and simmer over medium-low heat, partly covered, for 3 hours.


While the stock is simmering, char the onion in the flame of the gas burner. Char the ginger and cut in half.


After the beef bones and oxtails have simmered for 3 to 4 hours, add the charred onion, ginger, cilantro stems, daikon and chuck roast to the pot. Simmer for one hour. Remove from the heat and strain into another pot. Reserve the chuck roast.


One hour before serving: Return the stock to a simmer and add the star anise and cinnamon to the pot. Place the noodles in another large pot, cover with plenty of water, bring to a boil and cook until soft. Drain and set aside.


Thirty minutes before serving: Add the fish sauce, salt and sugar to the simmering stock.


While the stock is simmering, thinly slice the chuck roast and set aside. Thinly slice the raw eye round and set aside. Prepare a plate of garnishes for each person: sliced onion and green tops of scallions, a few stems of basil and mint, bean sprouts, slices of chilli, a half lime, a mound of rice noodles, and several slices of chuck roast.


To serve, place a few slices of raw eye round in each bowl and top with the hot stock. The stock will partly cook the eye round, but it should remain medium rare. Serve each person with a plate of garnishes.


Created by Clem Kuek