Clement Kuek's father's family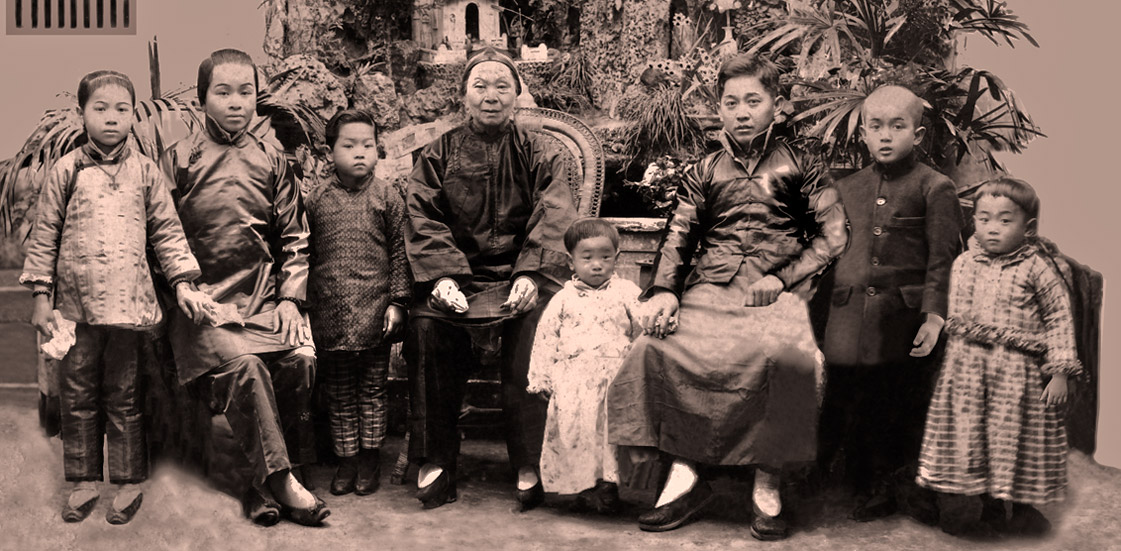 My Great Grandfather was a Henghua who after he moved to Swatow, became Teochew. This photograph was taken in Swatow with my paternal Great Grandmother (Agatha Sia) in the centre. You can see that my Great Grandmother had bound feet.
The boy 2nd from the right is the Number 1 son (my uncle) of my Grandfather (3rd from the right). He grew up to be the man 2nd from the right in the photograph below.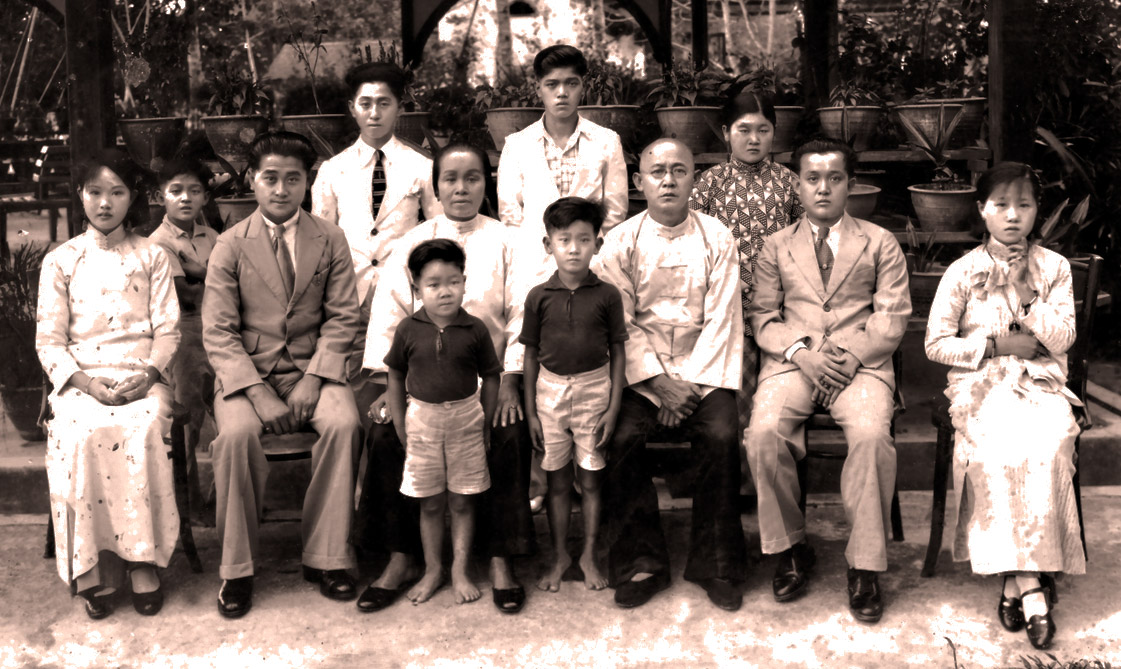 My father and his family.

This photograph was taken at Song Kheng Hai garden in Padungan, Kuching. It was just before (ca. 1938) the Centenary of Brooke Rule.
My father recalls that in those days, fresh milk was available, delivered daily to households from the the Rajah's dairy.

It is obvious which ones are my grandparents.

The two youngest ones at the front were too young to be bought shoes I guess but the elder sons wore batu ehs ("stone shoes" in the Malay/Hokkien dialect).
The taller of the 2 youngest ones is my father.

My grandfather was named Joseph (Kuek Chiang Tai) and his wife Anna (Choo).
His Number 2 son (3rd from the left) was called Joseph.
His Number 5 son was called Joseph (2nd from the left; although he used his second name Gregory).
My father (No. 6 son; born 1929) was also named Joseph.
Since my father was Brother No. 6, he was called "Lak Chek" in the extended family.
Hence, if I were ever to write an autobiography, I would entitle it, "My Father Was a Candle" ("lak chek" in the Hokkien dialect means "candle").

My father named me Clement.
Many years later, Number 2 Son Joseph had a son by his second wife and named him ..... Clement.

No. 1 son John (2nd from the right), No. 2 son Joseph, and No. 3 son Quentin (4th from the left) were all born in China and had wives arranged for them from the mainland.
No. 2 son, Joseph was imprisoned by the Japanese in the house almost next to the Sikh temple at the corner of Jawa and Mosque Road.
He hadn't bowed to a Japanese soldier. My father the younger Joseph had to bring the elder Joseph his dinner everyday in prison.
My mother always called this Joseph "Kling Kling" owing to the fact that he would always ring his bicycle bell when he rode by.

Next to my father in the photograph is Roch, the youngest. If you listened to the English news on Radio Sarawak in the 60s and 70s
you will know who Roch Kuek is (of him, Robert Lo once said: "... Here is the news read by Earthquake").
| | |
| --- | --- |
| This is my Dad this year | and this is me |
| | |
15 Oct 2009


Created by Clem Kuek